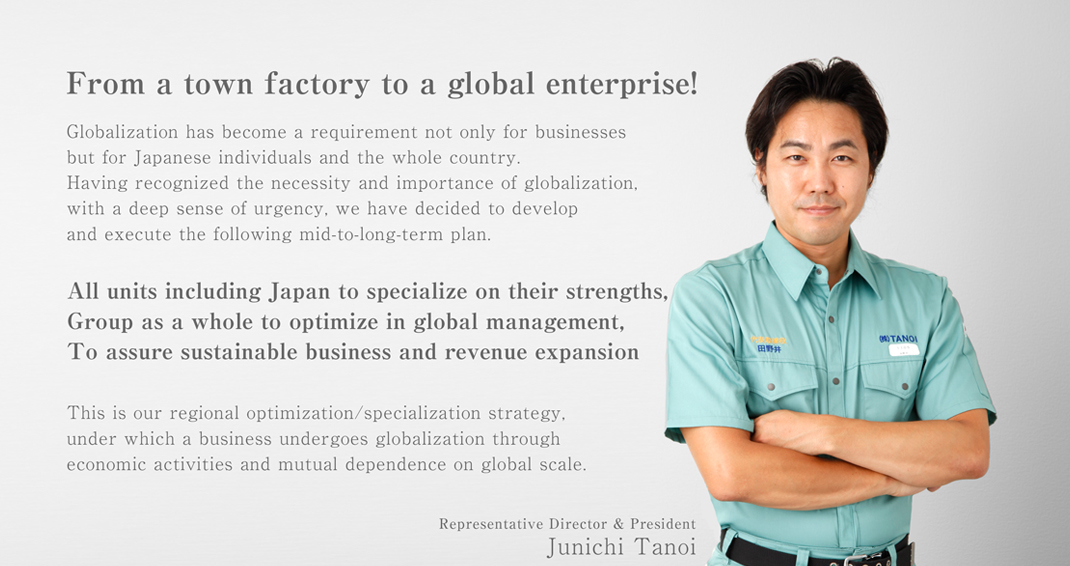 We continuously and systematically promote agile decision-making, and now we are focused on the four following areas of innovation:
①Technical innovation: transformation of Japan HQ as the mother factory and transition to high profit business
②Manufacturing innovation: high efficiency production at overseas production plants
③Distribution innovation: development of new distribution channels mainly on Asia's emerging countries
④Management innovation: Transfer and consolidation of HQ functions to optimal location
SMEs like our own are now under pressure to make management decisions on global scale. Those unable to do so are fated for elimination from the competition. And if I were to name one thing we need to survive all this, that's change.
In real society, every time you attempt to effect change, you are always bound to face countervailing power. Such resistance seems more acute in the regions. As I myself grappled with issues of management innovation, I had to sit down and talk to every single person and explain my intent.
What I had to emphasize in particular was "what not to change." If what my predecessor built and cultivated is the foundation and strength of our company, then we have to preserve and refine this tradition. For this reason we have decided to preserve engineers' strong pride in their techniques as a technical ideal.
Technical capabilities are the pillar of our going concern and the pride which supports each one of us in this company of professionals.
We define technology and technical capabilities uniquely, so as to impress their meaning upon our engineers' pride.
1.Knowledge based on principles and rules
2.Methods to realize things
3.Procedures defined by standards
4.Skills built on experience and hunches
5.Imagination to turn the impossible into the possible
6.Ability to test, measure and evaluate output
Technology refers to knowledge, methods, procedures, skills, imagination, testing, measurement and evaluation required in manufacturing.
Technical capabilities refer to abilities to utilize and convert all this technology into customer satisfaction using execution, initiative, teamwork, consideration, and leadership.
All our engineers are daily refining their technical capabilities on site, with a strong, great pride.
I, too, am also engaged daily in globalization efforts to develop our company. The reality is that there remain forces in and out of the company opposing forces of change. But unless we advance globalization, our business and employees and their family won't have a future, and I am not going to turn away from this reality. To promote globalization is the responsibility of a third president of Tanoi Co., Ltd. and this is my personal mission. We are committed to establishing world-class manufacturing and to supporting manufacturing as Japan's core industry.
Company Overview
■Company name

Tanoi Co., Ltd.

■Headquarters

811-5 Moro, Kanuma, Tochigi Prefecture, Japan 322-0026
Tel: +81-289-76-1468 Fax: +81-289-76-1469

■Group company

Seebest Co., Ltd. (Vietnam subsidiary) (For more details)

■Trading partners

Nakanishi Inc.
Akita Fine Blanking Co., Ltd.
Kito Seiki Seisakusho Co., Ltd.
Koga Corporation
Sowa Corporation
Machida Endoscope Co., Ltd.
Citizen Micro Co., Ltd.
Teibow Co., Ltd.
Hoya Candeo Optronics Corp.
UACJ Foundry & Forging (Vietnam) Co., Ltd
Others
■Foundation

June 1953

■Capital

JPY 90,000,000

■Representative

Junichi Tanoi, Representative Director & President

■Banks

Ashikaga Bank, Kanuma Branch
Development Bank of Japan, Utsunomiya Branch
Mizuho Bank, Utsunomiya Branch

Equipment
■Automated NC lathe

NU4Y TSUGAMI 1 unit
NU7Y TSUGAMI 1 unit
NM4S TSUGAMI 1 unit
T-NCMU45/160 TSUGAMI 1 unit
NU4B-2 TSUGAMI 1 unit
NP20 TSUGAMI 1 unit
NU4B TSUGAMI 1 unit
BU20 TSUGAMI 1 unit
NT20 TSUGAMI 1 unit
NU7B TSUGAMI 1 unit
NM4A TSUGAMI 1 unit
NP17 TSUGAMI 2units
LB15II-M TSUGAMI 1 unit
M50SY-II TSUGAMI 2units
M50SY-III TSUGAMI 1 unit
M42SD TSUGAMI 2units
MB38SY TSUGAMI 1 unit
MB38SY-III TSUGAMI 1 unit
M06SY TSUGAMI 2units
■Small NC lathe

H30 HASEGAWA MACHINE WORKS 2units
J24LG HASEGAWA MACHINE WORKS 1 unit
C24 HASEGAWA MACHINE WORKS 2units
X-10 HASEGAWA MACHINE WORKS 1 unit
NUC BOY8 EGURO 3units
KNC-20F Kitamura 1 unit
J24 HASEGAWA MACHINE WORKS 3units
L20 Takahashi machinery 1 unit

■MC

VMC3 TSUGAMI 1 unit
FZ-16 hamai 1 unit
TC-32A Brother 1 unit
JRV-40E TOSHIBA 1 unit
PS1-W-16 MAKINO 1 unit
DT-center ENSHU 1 unit
T14iAL FANUC 2units
T21iFL FANUC 1 unit
A-D21LiA5 FANUC 4units
A-T10C FANUC 1 unit
■General-purpose machine

BENCH LATHE HL-6 akebono 4units
BENCH LATHE HL-5 akebono 2units
Drilling machineKRT-340 北川 1 unit
Drilling machineKRT-340 KIRA 1 unit
Drilling machineTD-3600 日立 1 unit
Drilling machineKND-8 KIRA 3units
Drilling machineKND-8 KIRA 2units
Drilling machineKND-8 KIRA 2units
Drilling machineKND-8 KIRA 6units
Drilling machineMARK7 TKS 1 unit
Hi TAP BTO-263 Brother 3units
Hi TAP BT-321 Brother 1 unit
Index shaper NS-605 NAKAHIRO 1 unit
Index shaper NAKAHIRO 1 unit
Milling machineHPF HASEGAWA MACHINE WORKS 1 unit
Milling machineHPF-B HASEGAWA MACHINE WORKS 2units
Precision high speed lathe GL-120 EGURO 1 unit
Turret lathe TL8-3 EGURO 1 unit
Blaster SFK-2 Fuji Manufacturing 1 unit
Blaster CS-3 Fuji Manufacturing 1 unit
PURPOSE LATHE LS okuma 1 unit
Double side lapping machine USP-6B FUJIKOSHI 1 unit
Carbide tool grinding machines TSUGAMI 1 unit
■Cleaning machine

Buffer DB-400N shimomuradenyu 2units
BARREL MACHINE EC-2 sinto 1 unit
Magnetic Barrel PRITIC W priority 1 unit
Multi Purpose Grinding Machine MG180 TNC 1 unit
Centerless BG-14 Nippon Seiki 1 unit
Cylindrical Grinder GU-27・47F shigiya 1 unit
Double side lapping machine 7BT hamai 1 unit
Centerless SKS-250 SHINKO 1 unit

■Washing apparatus

3 layer type vapor wet scrubber ST-1 3-4 sato-kikai 1 unit
2 layer type vapor wet scrubber ES055 ASK 1 unit
Automatic ultrasonic cleaner/dryer PCS-3420 TOSEI 1 unit

■Inspection facilities

Measuring microscope MM-4001M NIKON 1 unit
Measuring microscope MM11 NIKON 1 unit
Surface roughness tester SURFCOM480A-12 TOKYO SEIMITSU 1 unit
Surface roughness tester Surfcorder SE2300 Kosaka Laboratory 1 unit
Cylindricity Measuring machine MITUTOYO 1 unit
Air Micrometer 603527 NIDEC TOSOK 1 unit
CNC 3D coordinate measuring machines SVA600A-C2 TOKYO SEIMITSU 1 unit
Measuring machine VAM-2520 NIKON 1 unit
Contour Measuring Systems CONTRACER CV-2100M4 MITUTOYO 1 unit
Equipment (SEEBEST PRODUCTION FACILITY INTRODUCTION)
■Automated NC lathe

M42SD 2013 TSUGAMI 1 unit
M42SD 2010 TSUGAMI 6units
M42SD 2009 TSUGAMI 2units
M42SD 2007 TSUGAMI 2units
M50J 2006 TSUGAMI 3units
NU4Y TSUGAMI 2units
NU4B TSUGAMI 2units
C24 HASEGAWA 2units
MB38SY-III TSUGAMI 1 unit

■NC Lathe

J24 HASEGAWA 9units
NUCBOY8 EGURO 5units
L20 TAKAHASHI 1 unit
H30 HASEGAWA 2units
C24 HASEGAWA 2units

■Machining center)

V3 HASEGAWA 2units
LPS1-W-16 MAKINO SEIKI 1 unit
VAC3 TSUGAMI 1 unit
D21LiA+DDR FANUC 1 unit
D21LiA5 FANUC 1 unit
■Polishing machine

CenterlessGrinder NIHINSEIKI 1 unit
Surface Grinder OKAMOTO 1 unit
Cylindrical exterior grinder SAKAINO 1 unit
Barrel Polishing Machine SINTO 1 unit
Barrel Polishing Machine Tipton 1 unit
Lapping Machine HAMAI 1 unit
Tool Grinder 4units
Magnetic Barrel PRIORITY 1 unit

■Special equipment

Sand Blasting Machine 2011 FUJI 1 unit
Sand Blasting Machine 1986 Chamilles 1 unit
Sand Blasting Machine 1976 FUJI 1 unit
Index Shaper Machine 1993 NAKAHIRO 1 unit
Index Shaper Machine 1989 NAKAHIRO 1 unit
Forging Machine YOSHIDA KINEN 1 unit
Air Press Machine FUJI CONTROLS 1 unit
Bending Machine NAKANISHI 1 unit
■Measuring instrument

Roundness tester 2012 MITUTOYO 1 unit
Roundness tester 2000 KOSAKA 1 unit
Surface roughness tester TOKYO SEIMITU 2units
Measuring microscope 2007 NIKON 2units
Measuring microscope 2013 NIKON 1 unit
Contour shape measuring instrument MITUTOYO 1 unit

■Washers

Manual type carrier cleanner ASK 1 unit

■NC Lathe

X-100 TAKAMATSU 2011 2units
X-100 TAKAMATSU 2010 2units
J24 HASEGAWA 8units
■Balancingmachine

Blance tester KOKUSAI 1 unit
Blance unit 2010 KOKUSAI 1 unit
Blance unit 2009 KOKUSAI 1 unit

■Measuring instrument

Optical Shape measuring machine TESA 1 unit
Surface roughness tester TOKYO SEIMITU 1 unit
Air Micrometer TOKYO SEIMITU 1 unit
Measuring microscope NIKON 1 unit
Eddy Current Tester(ECT) NIWES 1 unit
Roundness & Cylindrical Profile measuring machine MITUTOYO 1 unit

■Washers

Jet washer NISSHIN SEIKI 1 unit
Automatic ultrasonic cleaner SHINNWASANGYOU 1 unit
Corporate History
June,1953

Shinkichi Tanoi (the grandfather of the current president) established Tanoi Tekkosho in Uwanomachi,Kanuma City,Tochigi. The main business was machining.

April,1981

Changed the company name to Tanoi Seiko,Ltd. and reformed the organization. Koichi Tanoi became the president.

August,1981

Introduced the first automated NC lathe to promote automation by NC.

February,1986

Moved the headquarters to Moro,Kanuma City,Tochigi to expand the business.

June,2002

Gained ISO 9002: 1994 certification as Tanoi Seiko,Ltd.

June,2003

Changed the company name to TANOI Co.,Ltd. and reformed the organization. Established Business Division I for the medical device manufacturing business and Business Division II for the automotive parts manufacturing business.

June,2003

Gained ISO 9000 as TANOI Co.,Ltd.

July,2005

Received the first three trainees from Vietnam.

January,2006

Established TANOI SEEBEST as a subsidiary in Vietnam. Junichi Tanoi became the president.

May,2006

Tanoi Junichi became the president of TANOI Co.,Ltd.

May,2006

Gained ISO 9001: 2000 as Business Division II,TANOI Co.,Ltd.

June,2006

Certified for the Tochigi Prefecture Management Innovation Plan.

July,2006

TANOI SEEBEST started factory operation.

December,2006

Gained ISO 9001: 2000 as TANOI SEEBEST.

December,2007

Obtained additional 15,000 m2 in Vietnam.

March,2009

Established a factory with a floor area of 3,000 m2 in the obtained site.

May,2009

Established SEEBEST in Vietnam and merged with TANOI SEEBEST.

December,2009

Established the Turbocharger Impeller Machining Division within SEEBEST in Vietnam.

October,2010

Established the Technical Development Department at the headquarters in Japan with an investment of 200 million yen to promote the roles of the mother factory.

October,2011

Completed Factory No. 2 (3,000 m2) in Vietnam for production increase.

July,2012

Exhibited at Medical Device Development Expo (MEDIX). Kicked off campaign to develop new distribution channels.

October,2012

Established the Corporate Planning Department,and new Medical Department,International Sales Department and R&D Department in Japan.

October,2012

Introduced a 5-spindle machine to obtain turn-mill precision machining technology.

December,2012

Established a sales office in Singapore.

March,2013

Established a joint venture,PTW Co. Ltd.,with PMT Corporation based in Fukuoka. Started development and production of equipment.

June,2013

Certified for "Prototype Development Aid for Small to Medium Manufacturing Enterprise / Small Manufacturing Business Operator" for fiscal 2012.

December,2013

Certified again for the Tochigi Prefecture Management Innovation Plan.

May,2014

The SEEBEST factory in Vietnam was certified by IHI Turbo Co.,Ltd.

May,2014

Gained TS16949 certification as SEEBEST.

June,2014

Gained "Tochigi Prefecture Frontier Company" certification.

June,2014

Exhibited the first commercial product,"ECOBLOWER-I," for the first time at the Mechanical Components & Materials Technology Expo.

June,2014

Certified for "Small to Medium Enterprise / Small Business Operator Innovation in Manufacturing,Trading and Service" under national supplementary budgets for fiscal 2013.

August,2014

SEEBEST received a direct loan from a local bank in Vietnam based on the stand-by credit.

November,2014

Launched the new website in Japanese and English.